The Fuel Injection book
The 300 Page LOWE Fuel Injection book is the most comprehensive and most technically up to date fuel injection book in the world. It covers information on all types of constant flow fuel injection for virtually every application.
How do Receive my Copy of the LOWE Fuel Injection Book?
They make GREAT Christmas and Birthday presents.
The Fuel Injection Book is only AUD$124.95+Shipping and +Tax (if applicable)
Order yours today by sending an Order Form to Ken@KenLowe.com.au
What is in the 300 Page LOWE Fuel Injection Book?
The Fuel Injection Instruction book has been updated and now has 33 Chapters and 300 pages full of information, graphs, diagrams and photos.
Prologue
Chapter 1 Introduction to basic fuel systems
Chapter 2 Fuel pumps
Chapter 3 Barrel valves
Chapter 4 Jets
Chapter 5 Nozzles
Chapter 6 Poppets
Chapter 7 Other valves
Chapter 8 Setting idle fuel volume
Chapter 9 Setting stage fuel volume
Chapter 10 Tuning – non supercharged
Chapter 11 Tuning - supercharged
Chapter 12 Injector Body Types
Chapter 13 Seting Stack Injector Throttle Plates
Chapter 14 Fuel tanks and fuel information
Chapter 15 Leak checkers
Chapter 16 Data logger
Chapter 17 Fuel pump magneto drive
Chapter 18 Fuel pump cam drives, belt drives and extensions
Chapter 19 Fuel filters
Chapter 20 Fuel shut off valves
Chapter 21 Hoses - Fittings
Chapter 22 Frequently asked questions
Chapter 23 Trouble shooting your fuel system
Chapter 24 Crank Supports
Chapter 25 ENDERLE dimensions and information
Chapter 26 Math
Chapter 27 Weather
Chapter 28 Engine design
Chapter 29 Tools
Chapter 30 Plumbing schematics
Chapter 31 Glossary of terms
Chapter 32 Blower overdrive
Chapter 33 Parts for race cars

Topics
Setting the butterflies on stack injection - Chapter 13
Setting the port nozzle check valve - Chapter 6
Setting the high speed check valve - Chapter 6
First pass on new fuel system - Chapter 20
Thread size chart - Chapter 19
Air density gauge - Chapter 26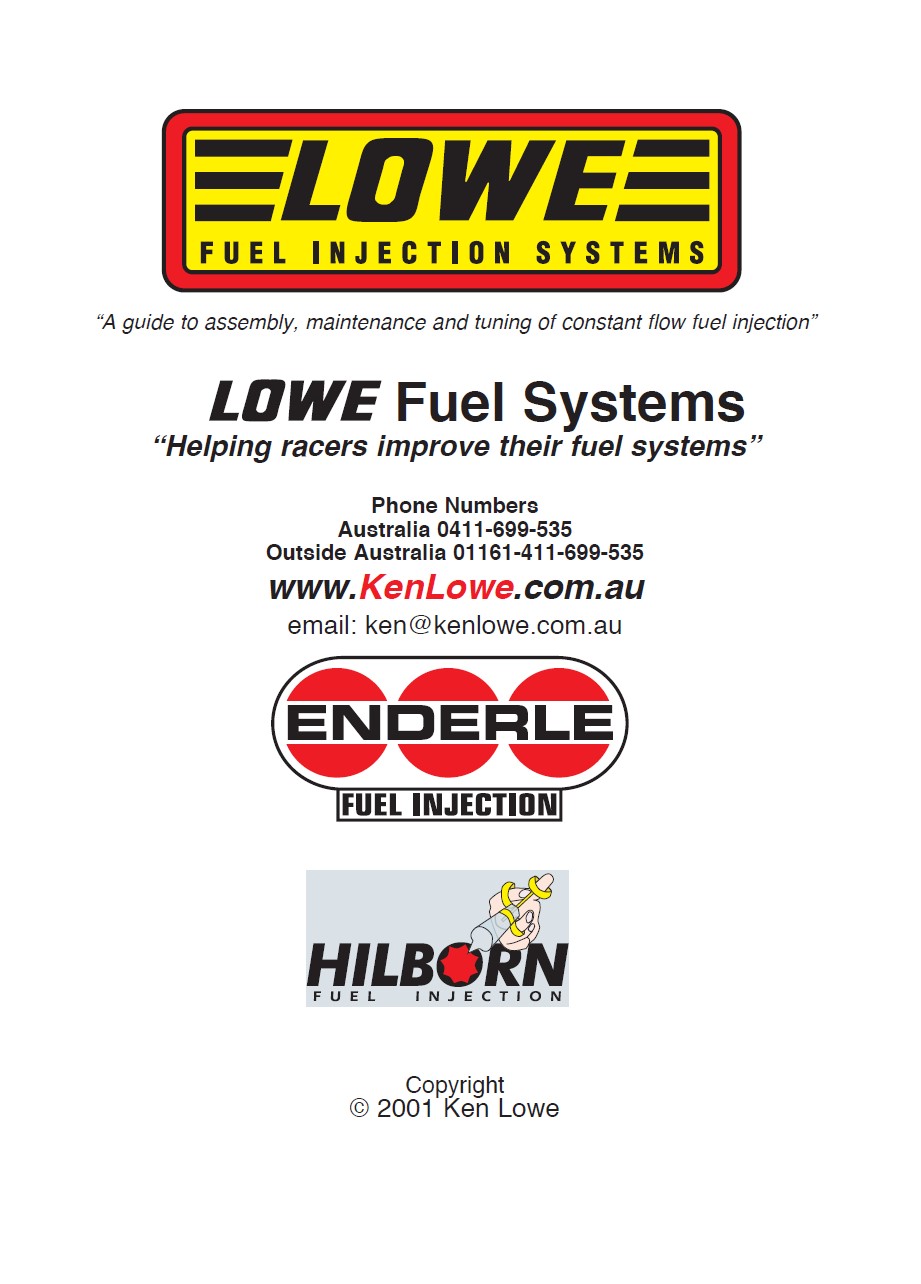 If you have already have a copy of The Fuel Injection Book, think about having your fuel system flowed by us.
Learn More